Best Sleeping Bags for Hut-to-Hut Hiking
Gear | 2 years ago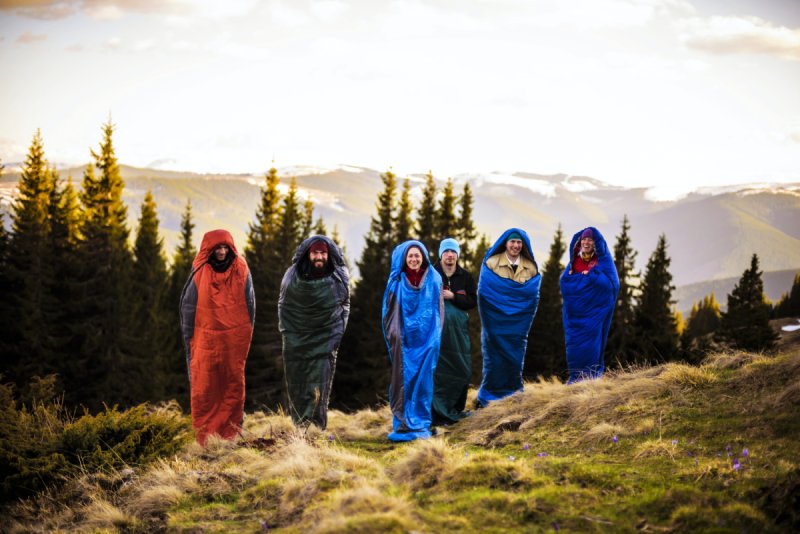 Gearing up for 2021
Best Sleeping Bag for Hut-to-Hut Hikes
We're still in the midst of this ugly pandemic, and who knows what the travel landscape will look like by the time the snow is long gone, but gearing up in hopes of hitting the trail is a good antidote for those stuck-at-home blues. There's nothing like dreaming and planning for that next big hike and gathering all the right gear so you're ready to go when the time comes.
Like most accommodations, European mountain huts are adapting to new regulations that are intended to help mitigate risks of transmitting and/or contracting the coronavirus. As well as limiting the number of guests, huts are also making adjustments to their sleeping accommodations. In the past, bunkrooms have come with bedding, sheets, blankets, and pillows. While many huts have traditionally required sleep-sheets, more are now moving toward requiring all guests to use their own sleeping bags
It might seem like one more thing to weigh down your pack, but it's actually one more piece of essential gear to build into a more complete and versatile kit. I tend to sleep cold and have found myself too often with too few blankets on cold nights in huts. Even before COVID, I started hiking with an ultra-light sleeping bag. It's my one luxury item that has not only assured me of a comfy night's sleep in a cold bunkroom but has also given me something to snuggle under during downtime in hotel rooms. And really, who doesn't like researching that next perfect piece of gear?
How to Choose Your Bag
Finding the right sleeping bag is a matter of balancing a number of factors: most importantly weight, warmth, packability, and price. The materials used to construct a bag, specifically insulation, will determine warmth, weight, and compressibility as well as cost. Ideally, you'll want the lightest, most compact bag for the coldest/lowest anticipated temperature that fits your budget. You'll be happiest with a bag weighing under 3 pounds.
The following is a very general discussion of some things you'll want to take into consideration when choosing a sleeping bag for European hut-to-hut hiking as well as some of our recommendations.
So, how cold does it get in the huts at night?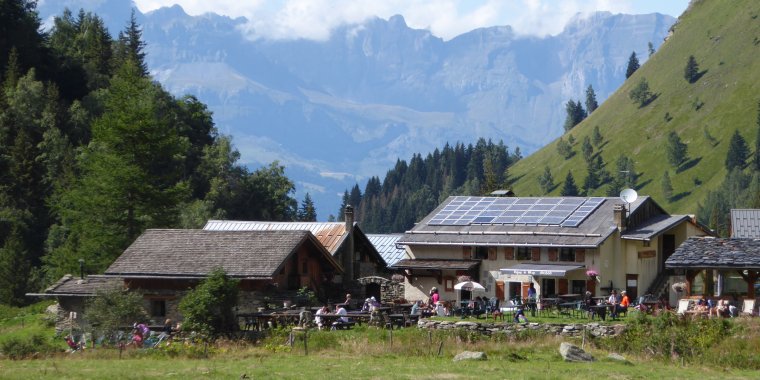 Sleeping accommodations in mountain huts, also referred to as refuges, rifugios, or cabanes, can vary. Some can be quite small and snug, sleeping only 4 hikers, while others can be more spacious accommodating upwards of 10 hikers. Some bunkrooms are arranged with traditional 2-person (one up, one down) bunk beds, while others can have an elevated platform accommodating a row of side-by-side mattresses. The more people in a room and the closer they are together, the warmer the room will be. With the likelihood of COVID precautions still being in place, chances are there will be fewer, and more spread-out, hikers in any given bunkroom.
Most mountain huts are can be located between 1300 – 2900 meters (about 4,500' – 9,500') depending on the route. The highest refuge on the Tour du Mont Blanc is the Refuge du Col de la Croix du Bonhomme at 2,443m (8,015'), while the average elevation of the others is around 1,800m (5,900'). Mountain huts along the Haute Route tend to be higher, ranging in elevation from 2,457m – 2,928m (8,061' – 9,606'). The average elevation of refuges along the Tour of the Vanoise is 2,350m (7,710') and along the Dolomites Alta Via 1, 2,000m (6,560').
Obviously, the higher the hut, the cooler the temperature. A very general rule of thumb is the temperature can be 4° Fahrenheit lower for every 1,000' of elevation gain.
Between June and September, low temperatures in these mountain resort towns are as follows:
Chamonix (3,396') between 53°F - 58°F
Courmayeur (4,016') between 51°F - 56°F
Zermatt (5,276') between 42°F - 48°F
Pralognan-la-Vanoise (4,626') between 41°F - 47°F
Cortina d'Ampezzo (4,016') between 41°F - 51°F
But, if the math seems a little too mindboggling, you can figure that outdoor low temperatures may range between the mid-30s to high 40s, being slightly lower in late-spring/early-fall, and indoor lows ranging between the low 40s and 50s.
Temperature Ratings
Now that you have the temperature range you're shooting for, how do you know what kind of bag to get?
All sleeping bags will have a temperature rating. It used to be that a sleeping bag manufacturer would test and rate their own bags. Nowadays, in an effort to be able to compare apples-to-apples, the industry has come up with lab testing standards. Manufacturers can now send their bags to an independent test lab. The lab will then assign it an EN (European Norm) or ISO (International Standards Organization) rating. EN was the original standard. ISO is a newer standard through testing methods and ratings are comparable.
Generally, any given bag will be assigned two ratings, a Comfort Rating and a Lower Limit Rating. Since women tend to sleep colder than men, the comfort rating refers to the temperature at which a colder sleeper, or the average woman, could expect to sleep comfortably. Likewise, the lower limit rating refers to the temperature at which a warmer sleeper, or average man, could expect to sleep comfortably.
All of that being said, not all sleeping bag manufactures or retailers in the US use this rating system. All sleeping bags sold through REI Co-op, for example, will have an EN or ISO rating. On the other hand, some high-end manufactures, such as Western Mountaineering and Feather Friends, will use their own time-tested ratings.
These ratings are meant as general guidelines. Our bodies are all different with varying metabolism and body heat production. Weather conditions can vary as well from one part of the country or world to another. To be on the safe side, a general rule of thumb is to add 10 – 15 degrees to a bag's rating to be more assured of hitting your preferred comfort rating.
Insulation
Sleeping bags are either filled with natural down (goose or duck feathers) or a man-made synthetic. Both have their advantages and disadvantages.
Sleeping bags are either filled with natural down (goose or duck feathers) or a man-made synthetic. Both have their advantages and disadvantages.
Down fill is warmer, lighter, and more compressible. It's also more expensive and provides very little insulation or warming capability if wet. The quality of the down used in any given bag is referred to as fill-power. The higher the fill-power (e.g., 650, 800, 950), the more compressible and lighter a bag will be, but also the more expensive.
Synthetics on the other hand do not provide the same weight to warmth ratio as down, meaning a sleeping bag with synthetic fill will not keep you as warm as a down bag of the same weight. Synthetic bags are typically bulkier, less compressible, and weigh more than down. However, bags with synthetic fill are usually less expensive, maintain their insulating properties when wet, and dry more quickly.
Shape
In addition to insulation, the shape of a sleeping bag affects its warmth and weight as well. There are two basic shapes: mummy and semi-rectangular.
A mummy-shaped sleeping bag is cut closer to body contours and will be lighter than a semi-rectangular bag that is made out of the same materials simply because it's using less material. It will also be warmer than a semi-rectangular bag of comparable weight. Mummy bags are snug which means you're rolling with the bag instead of inside the bag. For side-sleepers and those who prefer having more space for leg movement, a semi-rectangular bag may be a preferable option.
There are also gender-specific bags. Women-specific bags tend to be cut wider at the hips and narrower at the shoulders. They also have more fill in order to achieve the same temperature rating as a comparable men's bag, which can translate into a slightly heavier bag.
Quilt vs Sleeping Bag
In recent years quilts have become popular with ultralight hikers. Part of the thinking behind the concept of a quilt is that the insulation on the underside of a sleeping bag becomes compressed, and therefore relatively useless when laid on. By illuminating the materials that would otherwise create the back of the sleeping bag, as well as some other features like the hood and a full zipper, quilts can be considerably lighter, more compact, nearly as warm, and less expensive than a sleeping bag equivalent.
Some quilt enthusiasts feel they are less restrictive and more versatile than sleeping bags. They can be drafty if they don't have a full zipper, so it's important to get a quilt that's wide enough that it doesn't lift completely up as you turn.
The effectiveness of a quilt does rely on a good sleeping pad, but since we're talking about use in huts, where sleep mattresses are provided, this is really a non-issue. However, if you're thinking about getting a quilt, you may want to consider getting one with a full zip or carry a sleep sheet as well.
Bags that We've Used and Liked
Enlightened Equipment Convert 40º - Rating: 40º; Fill: 850 down; Weight: 18.89 oz.; Price: $325.00 Enlightened Equipment is a small company based in Minnesota that makes off-the-shelf as well as custom quilts and sleeping bags. Depending on the quilt or bag, you can choose your fill-power, temperature rating, length, width, and color. They also have a fun quiz that helps you choose your bag. They use their own temperature ratings which are comparable to EN/ISO lower-limit ratings.
Western Mountaineering Highlite - Rating: 35º; Fill: 850 goose down; Weight: 16 oz.; Stuff sack: 6"x 12"; Price: $370.00. Western Mountaineering is one of the best sleeping bag manufacturers out there. They make high-quality bags with price tags to match, but they're worth the investment.
Other bags worth considering
Feathered Friends Flicker UL Quilt Sleeping Bag - Rating: 20º, 30º, 40º (recommended 30º); Fill: 950 fill-power goose down; Weight: 22oz; Stuff sack: 8 liters; Price: $394.00
Zpacks 30F Classic Sleeping Bag - Rating: 10º, 20º, 30º (recommended 30º); Fill: 900 fill-power goose down; Weight:14.2oz; Stuff sack: 5"x 12"; Price: $319.00. Zpacks temperature rates their own bags and believes their ratings are closer to the lower limit. If you're a cold sleeper, you might consider the 20º.
Sea to Summit Spark Ultralight Sleep Bag 40º - Comfort Rating: 42º; Fill: goose down; Weight: 12oz; Stuff sack: 1.5L; Price: $319.00
Marmot Ultra Elite 30° - Comfort Rating: 42º; Fill: synthetic ElixR Micro; Weight: 1 lb. 13 oz.; Stuff sack: 7.5"x 16" (Compressed volume: 6L); Price: $189.00
Kelty Cosmos Down 20º - Comfort Rating: 32º; Fill: 550 fill-power duck down; Weight: 2 lbs. 10 oz.; Stuff sack: 8"x 13"; Price: $139.00
Sea to Summit Thermolite Reactor Extreme Liner - Rating: adds 25º to existing sleeping bag; Fill: Thermolite polyester fabric; Weight: 14oz; Stuff sack: 6.5 x 4.5"; Price: $70.00
#Getting Ready
#Packing