About Us
Our Background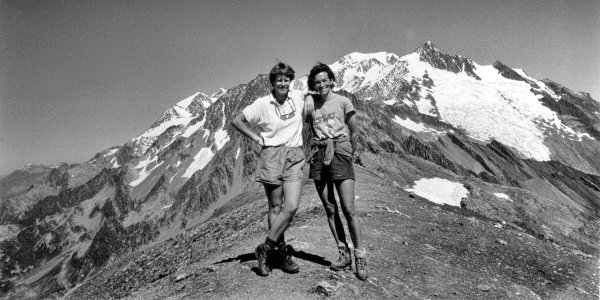 Founders Andrea Ellison Mulla and Julie Head, Tête Nord des Fours, 1987
The foundation of Distant Journeys rests on our expertise in adventure-based outdoor leadership and our extensive background in developing and running international hiking experiences. For over 30 years, we have specialized in guided hikes and self-guided hiking and walking trips along world's classic long-distance routes and to areas of inspiring natural beauty.
When we first started Distant Journeys, we were two young Outward Bound instructors eager to share the unique and unlimited possibilities that hiking Europe offered. After spending countless windy, rainy nights on pulling boats, when the cook stove wouldn't light and the tarp leaked and the anchor dragged, or days of hiking through the Maine mountains weighted down with tents, cook pans and food while shepherding bands of energetic adolescents, the experience of arriving at a mountain hut at the end of a day of hiking to be greeted by a cold drink, a hot meal and warm bed was eternally captivating.
In our nearly 20 years of experience working as Outward Bound instructors, we each worked with a wide range of populations: from youth at risk, to women's groups, to standard groups consisting of teachers, West Point and Coast Guard cadets and corporate executives. We instructed, supported and led course components including sailing, hiking, canoeing, rock climbing, ropes courses and problem-solving initiatives. And we worked with these groups in challenging and, at times, stressful wilderness situations, while imparting the skills necessary for participants to conduct their own expeditions.
Since offering the Tour du Mont Blanc for the first time as a guided trip 30 years ago, we have expanded our trip offerings to include 20 trips in eight countries. We have chosen to keep our company small so that we can remain true to our touchstone of personal service, and so that we can continue to guide the routes we love and still have time to develop new trips to destinations that intrigue us.
Our Distant Journeys trips are by no means Outward Bound courses. However, what we've learned from Outward Bound and from all of our time out on the trails of Europe is that if we are willing to leave the routines of our everyday lives and step into a life that is more in tune with the rhythm of the natural world, even if it is only for a short time, we will feel more alive, more energized and more vital. And, if we are willing to travel in a way that is open to surprises and the unexpected, then every journey becomes a true adventure.
Our Approach
While it's been over thirty years since we first hiked the Tour du Mont Blanc, the true beauty of hiking in Europe remains. You can still throw a change of clothes, your rain gear and lunch in a pack, step out the door and walk anywhere you want to go. You are never far from a signpost, a footpath or a welcoming place to quench your thirst, quell your hunger or rest your head. You are never far from the good, congenial company of fellow hikers. Nowhere else is it so possible to walk from village to village, inn to inn, or hut-to-hut and barely lay foot to asphalt or pedal to the metal.
In planning our trips, we generally are drawn to Europe's classic routes that have intriguing histories or compelling constructs, like hiking from one coast of England to the other or from Mont Blanc to the Mediterranean. We work to maintain the integrity and continuity of a route by hiking as much of it as possible and using alternate transportation only as needed, while at the same time fitting the experience into a time frame that most of us can manage.
We also understand the value of lingering. Some places are so welcoming and offer so much that it is worth settling in a bit, spending time doing day hikes and coming back to the same accommodation each evening.
Whether planning a long-distance route or a hotel-based trip, the key for us has always been simplicity and balance. Our aim is to travel well, but without excess, to travel in ways that are environmentally respectful and that are in tune with local traditions and customs. Traveling in the traditional European style of staying in small inns, hotels and mountain huts, carrying our own packs, and using local transportation, lifts and trams brings us closer to the heart of a place. Keeping our groups small minimizes our impact on our surroundings, and assures for flexibility and a higher level of personal attention.
Our trips are about the rewards of physical endeavor and the benefits of connecting with other people and other cultures in real ways. Above all they are an expression of our abiding respect for our natural world, for its beauty, its power and the gifts it holds for those who are willing to travel its contours slowly and simply.
Our Guides and Office Staff
Over the last 32 years, we have been fortunate to be able to choose our guides from a pool of colleagues, who like ourselves have their roots in Outward Bound. Foremost, they are seasoned professionals in the field of outdoor adventure-based leadership, but in the greater part of their lives they are artists, educators, athletes and professionals. They are all exceptional in their ability to connect with people and in their commitment to providing safe and rewarding hiking experiences. They share our love of travel and our belief that when you bring a group of people together for a common purpose in places of inspiring natural beauty, great times are ahead.
Chances are when you call Distant Journeys you'll speak to one of us, a founder, but if we're not available, one of longtime office staff will help you. They are friendly, knowledgeable and have themselves participated in many of our trips. They will work with you to help you choose the trip that is right for you, and are dedicated to providing you with the service you will need to make your pre-trip planning go smoothly.
---
The guides were confident, prepared, skilled, good-natured, friendly, funny, helpful, caring, in good voice, upbeat, and so great to be around!
Ja-Ja Howe, Madison WI