Sample Hiking Gear Packing List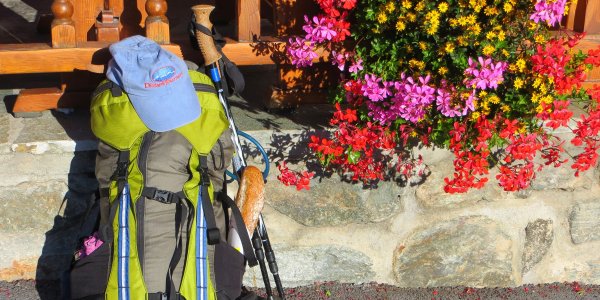 Hut-to-Hut and Inn-to-Inn Hikes
Lighten Up! Most of our hut-to-hut and inn-to-inn hikes in the Alps are not luggage supported, but carrying a pack does not have to weight you down. In fact there are real advantages to carrying a reasonable amount of weight. Hiking without vehicle support can heighten your sense of self-reliance and feeling of connection with the countryside and people around you, not to mention it is kinder on the environment. Plus, carrying some weight in a well-constructed backpack and using proper hiking techniques can provide for better conditioning. And you won't have to think twice about that mid-day gelato or blueberry tart for dessert!
Many outdoor hiking gear companies are now making the move toward lightweight and ultra-lightweight equipment and clothing. Now more than ever, it's possible to keep the weight of your pack and its contents down. New synthetics provide for lighter weights in clothing and the need for fewer items. Upgrading your gear may be an investment, but it is well worth spending a little more for gear that functions well and for gear that you like. If you like it, you'll use it, and if it functions well, you'll like using it!
The beauty of the European style of hiking is that it is not necessary to carry camping gear and provisions. Essentially, all you need to carry is your clothes and lunch items. Below is a sample packing list geared toward keeping your pack as light as possible. Packs should weigh between 15 – 25 lbs.
Extra luggage not needed on the trip will be stored at the hotel until your return or meet you at the end of the hike.
Equipment and Special Items
Backpacks: A good place to start lightening your load is with your backpack. An ultra-light pack can cut your overall pack weight down by as much as 4 lbs. And a lighter pack means you can use lighter-weight hiking boots.
A pack size of 38 – 54 liters or 2,300 – 3,500 cubic inches should be adequate. A comfortable, well-fitting and well-designed pack with a good hip belt is essential. When selecting a pack, be sure it allows easy access to a camera, water bottle and lunch. There are many good packs. Kelty, Dana Designs, Osprey, Mountainsmith, REI, EMS and LL Bean all make great mid-sized packs.
Ultra light packs, which we strongly recommend, include Hyperlight Mountain Gear, Osprey, Gregory, and Granite Gear. They all make packs that weigh around 2 lbs. or less that will comfortably carry all the things you will need.
Note: Some of our Inn-to-Inn trips do provide daily luggage transfer. For these trips you will need a good, sturdy small- to medium-sized daypack that can comfortably hold everything you will need to carry for the day (i.e. water, rain gear, a warm layer, lunch items, first aid kit, camera). A good hip belt is important even for a day pack, as this will help take some of the strain off your shoulders.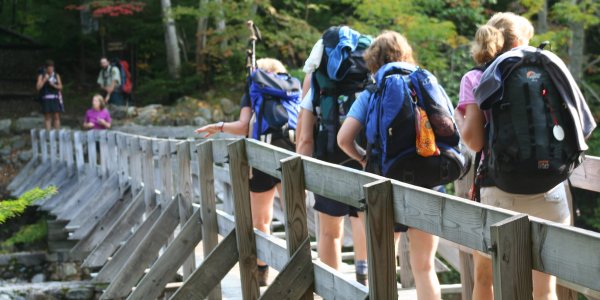 Hiking Boots: We recommend that you choose your boots carefully, as your feet will be your main source of transportation. Your boots should fit well and be well broken in. If your feet are happy, you will be happy.
Merrell, Keen, Asolo, Lowa and Salomon are companies that make quality hiking boots in both leather and fabric. Any outdoor store including LL Bean, REI, EMS, should be able to help you.
Rain gear: We cannot over emphasize the importance of good rain gear, both tops and bottoms. While we recommend Gore-Tex type rain gear, Marmot and Patagonia make lightweight rain gear using other waterproofing treatments.
Walking Sticks: Hiking poles are very useful. They add a third point of contact with the trail, helping with balance and taking some of the strain off your knees on descents.
Considerations on What to Bring
Though we always hope for warm and sunny weather it can be cold and rainy/snowy in July and August too. Temperatures can range from 32 at night to 80 during the day. To be prepared for rain, it's a good idea to pack your clothes in waterproof pack liner, a large plastic bag such as a trash compacter bag, or zip-lock bags inside your pack, as well as to use a waterproof pack cover. Backpacks are not waterproof.
When selecting clothing, think about dual-purpose clothes and about layering for warmth and keeping dry. It is better to have several layers you can take off and put on one at a time versus one heavy layer.
A word about cotton: When cotton gets damp/sweaty/wet, not only does it become heavy and take forever to dry, more importantly, it draws warmth from your body. It has no insulating properties. On a long cold, rainy day, wet cotton next to your body is not only uncomfortable, it can cause hypothermia. Please do not bring cotton long underwear, t shirts, socks, sweatshirts or sweatpants.
Wool and synthetic fabrics retain their insulating qualities. These fabrics keep you warm even when wet, dry quickly, and are lightweight. There are many excellent jackets, sweaters, shorts, pants and hiking t shirts made from synthetic fabrics which are known by many different names: quilted synthetics, nano, silk weight, quick dry, merino wool, etc. As with the other clothing items, we recommend your hiking t shirts be made of synthetic materials (not cotton) because they hand wash easily, dry quickly and have qualities that keep you cool on warm days and warm on cold days! Any reputable gear store will carry a good selection of hiking clothes.
Final Tip
It's all the little extra optional items you throw in at the last minute that add up and will get you in the end. Every extra item you can eliminate will make you a happier hiker at the end of the day.
Though we encourage you to pack as lightly as possible, don't skimp on the essentials. To be prepared for cold and/or inclement weather we cannot emphasize enough the need for warm clothes, good rain gear and comfortable hiking boots. Having the appropriate clothing and gear will add to your enjoyment, comfort, and safety.
Packing List
Specialized gear
1 Pack — approximately 3,000 cubic inches or 40 liters
1 pair hiking boots
1 pair hiking poles — these are optional, but we recommend them
Clothing
1 set rain gear — tops and bottoms
1 pair mid-weight long underwear — tops and bottoms
1 lightweight fleece sweater or fleece vest
1 mid-weight fleece sweater
1-2 pair synthetic hiking shorts
1-2 T-shirts — Coolmax or similar
1 pair long pants — Ex Officio makes lightweight pants/shorts good for towns and trails
1 long sleeve shirt
2-3 pair hiking socks — Smartwool or similar.
1 pair extra shoes for wear at end of day and in town— Tevas or similar
1 warm hat and pair of mittens/gloves
1 sun hat
Other Gear
2-liter water bottle or Camelback (hydration system)
Sun screen and sun glasses
Jackknife
Bandanna
Small towel or sport towel, for use in the refuges.
Small flashlight or headlamp — handy for all trips
Personal toilet articles in small, travel size amounts: toothbrush/paste, soap, tissues, shampoo (works well for washing too)
Woolite or similar soap for hand-washing clothes
Optional Items
Camera and extra memory
Ear plugs for use in the refuges/hotels
Sleeping sheet (refuges only)
Travel umbrella
Journal
Book
Small Tupperware container for lunch items
Bathing suit