What to Expect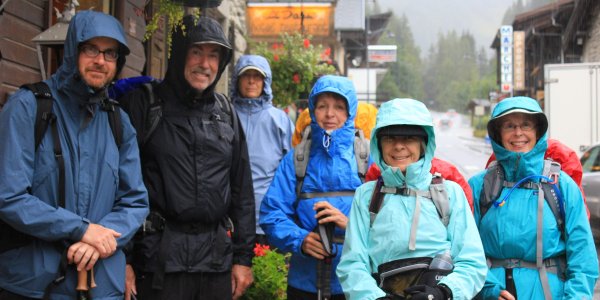 A Typical Day
One of the exciting things about our hiking trips is there is really no such thing as a "typical day." Although there are many factors that influence a day including itinerary, weather and length of the hikes, there will be some basic routines. At some point during each day we will describe the hike for the following day and discuss any hiking options (if any.)
Most days we like to start hiking around 8:30 am. Some days we will start earlier. This gives us time to linger on the trail and stop at points of interest. It also allows us to cover the majority of the distance before the day becomes hot, or the weather deteriorates. Lunches will be picnic-style along the trail. We will arrive at the hotel between 3:30 and 5:00 pm. This allows time to relax or explore on your own before dinner, which is usually served at 7:30 or 8:00 pm.
On the Trail
In the mountains and on the trail in general, safety is our number one concern, and it is most important that we look out for each other. That being said, we like to structure our hikes such that each trip member feels comfortable hiking at their own pace without fear of holding up the group, being held back, losing the group or taking a wrong turn. We generally have two guides on each trip, which allows us to accommodate for different paces and also offer easier and harder or slower and faster options.
Accommodations
In general, we endeavor to choose accommodations that are traditional, family run, reflect the local character, and are as comfortable as the location affords.
Given the nature of traveling by foot to a new destination each day, our choice of accommodations for some of our trips is partly determined by where our day ends. If we end in a village or town we may stay in a 2, 3 or even 4 star hotels. If we are in a remote hamlet, we may stay in a gite, and in the mountains, our only choice may be a rustic hut.
We have found that there is direct correlation between our sense of comfort and how welcome we feel. For us, whether it is a 4 star hotel or a remote mountain hut, we endeavor to establish strong, respectful and congenial relationships with the owners and staff so our trip members feel as much at home as possible.
Some of the places we stay are in amazing locations, some are luxurious, some are basic, some are run impeccably, some are quirky, some you don't want to leave. The variety of accommodations and the experience each affords is a thread we feel enriches the fabric of a journey and one of the things makes traveling on foot so memorable.
Huts, Refuges, Cabanes and Gites
"Hut" is the generic term that can refer to refuges, rifugios, cabanes or gites. These are all basically the same type of accommodation, what varies is their size, location or intended purpose. They all offer simple accommodations having a common dining room, shared bunkrooms, and shared washing and bathroom facilities. Some may offer private rooms as well. All provide blankets, pillows and mattress covers. All provide meals and serve beer, wine, and other beverages.
Refuge is the French term for hut, rifugio is the Italian. At higher elevations, they can be purpose built for climbers, at lower elevations they can be purpose built, or as is common in France, can be old alpine farms that have been converted into accommodations for hikers. They can be either club or privately owned.
Cabane is the Swiss term for hut and usually refers to a high mountain lodge that has been constructed as a base for climbers.
Gite is a French term and these are generally located in small hamlets with road access. Some, again, were once farms, some were old priories.
Some huts accommodate as few as 30 hikers, others 40 – 60 persons or more. Bunkrooms vary from accommodating as few as 4, 6 or 8 people in double-decker beds, to large rooms with elevated platforms holding side-by-side mattress for many people. The shared facilities vary, but all have washing and bathroom areas and most have hot showers. There are dinning rooms that also serve as places to relax after hiking and outdoor sitting areas where you can admire the view. Most have snacks and packed lunches available for purchase.
Each hut has its own charm and unique character. The atmosphere is friendly and jovial as hikers from many countries gather to spend the night. We believe that staying in the huts offers a wonderful opportunity to spend time in some incredible locations, to meet hikers from other parts of the world, experience something new and wonderful, and take part in the simple traditions of European style hiking.
Hiker's Hotels
On some of our trips we stay in what we refer to as Hiker's Hotels. These hotels offer simple and basic, though comfortable accommodations with private rooms as well as bunk rooms. Again, there are dining rooms that serve as a place to relax after hiking and outdoor sitting areas where you can admire the view and purchase snacks and beverages.
Meals
Breakfast is provided at all our huts and hotels and can vary from elaborate buffets of breads, rolls, cereals, boiled eggs, local meats and cheeses, and yogurts to the classic continental-style breakfast of only coffee/tea, bread and rolls, butter and jam.
Lunches are mostly picnic style, though on some days it is possible to stop for lunch at a mountain restaurant, or village café. Shopping for picnic items at village shops and markets is a wonderful opportunity to meet and interact with locals and sample regional specialties. Most huts and hotels will also have picnic lunches available for purchase.
Dinners are generally offered at one sitting and the menu is set. Some establishments offer a selection within the set menu, and dishes served reflect the local cuisine, with the main course tending to be a meat dish. With advanced notice we will make every effort to accommodate those with medically restricted diets and non-meat or vegetarian preferences.
Given the remoteness of some of the refuges, fresh foods and alternative meals are often very limited. The meals at the huts are traditional mountain fare, hot and hearty.
Hiking Grades
Any hiking trip in the mountains requires a certain amount of effort. Proper fitness training will enhance your enjoyment. In the mountains, time and elevation gain or loss as opposed to distance, tend to be the determining factors when defining hiking grades or level of difficulty. We have done our best to grade our trips consistently, please contact us for further clarification. We are happy to offer names of past participants.
Easy: Hike 3 to 4 hours daily carrying a day pack on generally gentle terrain. Distances from 4 to 8 miles. Elevation gain and loss 500′ to 1,500′.
Moderate: Hike an average of 4 to 5 hours daily on varied terrain. Distances from 5 to 9 miles. Elevation gains and losses generally 1,500′ to 2,500′ or about 2 hours.
Strenuous: Hike 5 to 7 hours daily on varied terrain, with consistent ascents and descents of 2 to 3 or more hours generally 2,500′ – 3,500′. Distances from 6 to 11 miles. There are some sections that include steep uphill and downhills.
Strenuous Plus: 5 to 8 hours partly on rocky, challenging terrain with consistent steep ascents and descents of 2 to 3 or more hours generally 3,000′-5,000′. Distances from 6 to 15 miles. Though each day is not strenuous plus there are some sections that may include rough terrain and open and exposed trails.
Trails and Weather Conditions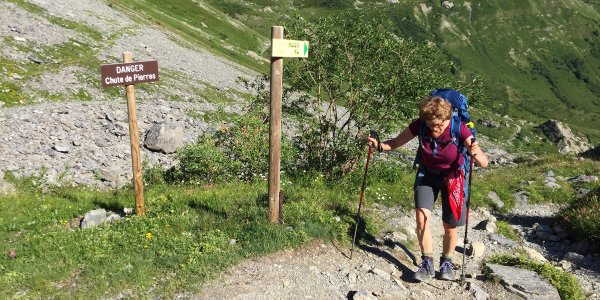 Generally speaking, the trails in Europe are well graded, well defined and well marked which makes for great hiking. Depending on the trip, sections may include mud, snow, loose rock, and scree, and trip members should be in condition appropriate to their trip and be able to hike in varied terrain and weather.
For all our trips you can expect to be outdoors for most of the day and not always within quick reach of shelter. This being the case, we are more at the whim of Mother Nature than your average traveler. Naturally, we hope the weather will cooperate, but as often is the case in the mountains it can change quickly and without much notice. Though we will be checking forecasts daily, you should be prepared for some hiking in wet or adverse conditions, or for a change in itinerary. All participants will receive a detailed packing list, which lists required gear and clothing necessary for all potential weather conditions we might encounter.
Joining and departing your trip
We try to make joining and departing our trips as easy as possible. When possible we meet the group at the airport most convenient to the start of the trip. For other trips we meet the group at a convenient train station. For some trips, members will be on their own to get to our first nights accommodations. In all cases we try to minimize the travel time and number of various connections between where your flight touches down and where it takes off. For each trip we provide detailed information on where and when the group will rendezvous and how to get that point.
Luggage
Whether you are taking a hut-to-hut hike, a hotel based trip, or a trip that includes daily luggage transfer, we encourage you to pack as light as possible. You will enjoy the simplicity of traveling of traveling with only what you need and come to appreciate the beauty of a few well chosen, versatile items, and you will not miss the aggravation of wrestling with oversize bags.
If you are taking one of our trips that offers daily luggage transfer, we ask that you bring one medium sized bag (maximum carry-on size is optimum) that you can comfortably handle yourself. Keep in mind that quite of few of our smaller inns and hotels do not have elevators and hallways can be narrow and winding.
For our trips that do not include daily luggage transfer, you will need to carry a small to moderate sized pack with only the clothing and accessories you will need for the duration of hike. (See our sample packing list.) With advances in synthetic clothing and other travel gear, it's possible to keep your pack weight to 15 to 20 lbs. including lunch and water. Any extra luggage or belongings you may have will be stored and will meet you at the end of the trip.
What's Included
A complete list of what is included in the Land Cost for any given trip is noted in that trip's detailed itinerary. In general all our trips include:
all accommodations
all breakfasts
most dinners
all group transfers on ski lifts, buses, vans and trains as described in individual itineraries
guides
What's Not Included
A complete list of what is not included in the Land Cost for any given trip is noted in that trip's detailed itinerary. In general, our trips do not include:
airfare
lunches
some dinners
optional/individual transfers or excursions
items not on set dinner menu, beverages, insurance, tips to guides/leaders, items of a personal nature (phone charges, laundry, excess baggage charge, passport fees, etc.)