Self-Guided Hiking Trips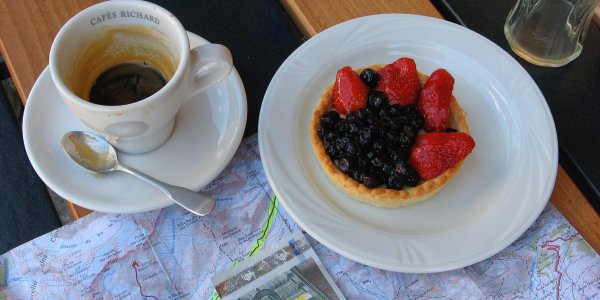 Many hikers these days have the experience and skills to hike a route on their own, but may lack the time or expertise to plan a hiking itinerary in a foreign country. Our self-guided hiking trips are for those independently-minded hikers and walkers who would like the freedom, flexibility and adventure of hiking on their own. We are happy to arrange self-guided hiking trips for single travelers as well as families and groups of up to 12 or more.
In addition to long-distance routes, we also offer self-guided hotel-based hikes in France and Switzerland. We use several different mountain villages as bases and we will design an itinerary that is best suited to you.
Why Have Us Plan Your Self-Guided Trip?
Our self-guided trips can take a lot of the guess work out of planning and the uncertainty out of hiking a new route in an unfamiliar area, which can save you time and frustration. You don't have to figure out how to get there, where to stay, which trails are best, how to make reservations and arrange for other logistical support. We craft each self-guided itinerary to fit your individual interests and abilities, and provide you with the information you will need to start your hiking adventure with confidence.
After over 30 years of developing and guiding hiking and trekking trips throughout Europe, we are intimately familiar with our trip areas, as well as the hotel and hut owners and service providers with whom we work. At the end of a day of hiking on one of our self-guided itineraries, whether you are ending your day at a mountain hut or village hotel, you will be greeted with the same anticipation and welcome as if we were arriving along with you. We are dedicated to providing personal attention and crafting a quality experience at a good value that is just right for you.
How It Works
Our self-guided trips are based on our guided itineraries — you get everything you would get with a guided trip except the guides. You tell us whether you prefer a hotel-based, inn-to-inn, or hut-to-hut trip, which route you would like to hike, when you want to go and how many days you want to spend on the trail. We arrange and prepay all your accommodations, transfers, and most meals, and give you a detailed trail notes, topographical maps, hotel vouchers and supporting travel information.
What's Included
Included in the cost of our self-guided itineraries is general consulting regarding hiking dates and abilities, all prepaid accommodations including all breakfasts and most dinners, all private taxi transfers as detailed in the final itinerary, topo maps, detailed trail notes, including additional information covering various aspects of your trip (i.e., lunches, laundry, water, refuge routines, alternate transportation, etc.), information on getting to and from the start and finish of your hike, travel suggestions, and general information concerning the area and route. Accommodations will vary depending on the trip.
What's Not Included
Not included in the cost are air fare, lunches, any transfers or excursions on trains, lifts, buses, taxis, luggage transfer, if any, extra charges due to changes in itinerary, items not on set dinner menu, 2 to 4 dinners, depending on the trip, beverages (except those served at breakfast), insurance, items of a personal nature (phone charges, laundry, excess baggage charge, medical expenses, evacuation costs, insurance, passport fees, etc.). Please see your final confirmed itinerary for specifics.
Allow roughly $200-$450 in additional costs, depending on your trip length.
What If Weather Is Bad Or I Get Delayed En Route?
In the final information we offer detailed directions and instructions on what to do if you must skip a day of hiking due to bad weather, or for some other reason, and how to rejoin your itinerary.
Check out our Self-Guided trips!!
---
The Process
We create a draft itinerary, including land costs, based on either your exact dates or general time frame, area of interest, level of hiking ability and number of days you are interested on being on the trail.
For detailed information on booking self-guided hikes, deposits requirement, terms and conditions and other important information: Booking your Self-Guided Hike.
Deposits and Forms: Once you have accepted a finalized itinerary with dates and costs, we ask for a non-refundable deposit of $500 per person. As payment, we accept Mastercard, AMEX and VISA or personal checks. At this point, we will begin locking in reservations and all other necessary arrangements.
Normally, we have no trouble confirming your first choice of accommodations, though we encourage you to plan your trip early. Late registrations or other circumstances may prevent us from securing your first choice. Should this happen, we will make appropriate substitutions and reconfirm the changes with you before proceeding. Though rare, these changes may result in an additional cost. We also require a completed Registration Form, a signed Acknowledgment of Risk Form for each participant, and Medical Questionnaire.
Packet 1: Upon receiving your deposit(s), application(s) and signed wavier(s), we will send you a confirmation of receipt, a detailed itinerary with your dates, travel information, packing list and other information that will help you plan your trip.
Packet 2: On receipt of final payment, due normally 60 days prior to your start date, we send you your final packet of information including detailed trail notes, hotel and refuge vouchers, supporting information and topo maps.
Changes: Once your itinerary and dates have been confirmed and reservations and other arrangements have been made on your behalf, any subsequent changes to the dates or itinerary will be subject to change fees. We cannot make any changes, or give any credits or refunds for unused parts of your trip, once you have begun your trip.
---
Hi Andrea - thanks for putting together an awesome trip for us.  We loved everything about it and can't say enough good things.  The hotels were superb and the meals great but perhaps the best part of the trip was the varied terrain that we hiked through.  The mountains, plains, gorges and vineyards were all beautiful. Thanks again!
Mike O'Keefe, Lee NH